More than 95 per cent of developers simply paid a financial penalty upfront to clear koala bushland under Queensland's controversial offset policy, a Queensland government discussion paper shows.
In 2017-18 alone $4.58 million was received in offset payments for 40 development applications where koala bushland was involved.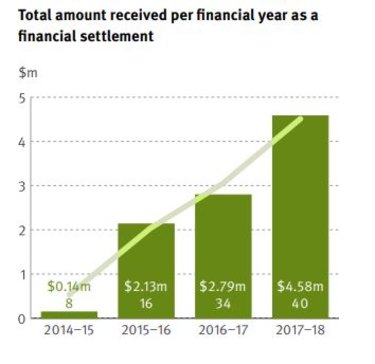 That has increased from $140,000 in offset payments for eight development applications in 2014-15.
The practice has been condemned by WWF-Australia because it allows developers the option of simply paying a sum of money as an offset payment to clear the koala habitat.
"Such an approach is an incentive to clear bushland, and the relevant acts should be repealed and replaced by legislation that promotes verifiable outcomes consistent with ecologically sustainable development," WWF-Australia ecologist David Paull said in a recent study into koala's status.
Queensland's Department of Environment and Science said it was now reviewing Queensland's koala habitat offset policy, introduced in 2006.
"It will include an evaluation of the effectiveness of the current framework in achieving environmental outcomes and the extent to which it aligns with best practice from other jurisdictions," a spokeswoman said.
The discussion paper Review of the Queensland Environmental Offsets Framework shows 97 per cent of the 156 development applications approved with offset conditions between July 1 and June 30, 2018, were made by a financial settlement, rather than other land protection strategies.
WWF-Australia said the diminishing koala populations on Australia's east coast showed it was time to toughen the national conservation classification from "vulnerable" to "endangered".
"Given that koala populations continue to decline to historic lows, koala populations in New South Wales and Queensland would likely qualify for 'upgrading' the current 'vulnerable' listing to 'endangered'," WWF-Australia ecologist David Paull said.
The federal environment minister in 2012 classified the koalas as vulnerable after a recommendation from the Threatened Species Committee.
Queensland's Department of Environment and Science said a nomination to the Threatened Species Committee was necessary to tighten the conservation status of the koala.
"Nominations to change the listing status of a species are done through a nomination to the Species Technical Committee who subsequently assess the nomination," the spokeswoman said.
"Queensland Parks and Wildlife Service is not aware of any current nominations for the koala's status to be changed in Queensland."
Meanwhile, the Australian Koala Foundation estimates that by 2018 there could be anywhere from 12,165 to 23,005 koalas remaining in Queensland.
It estimates the koala is extinct in some places and there are now fewer than 20 koala in some city electorates.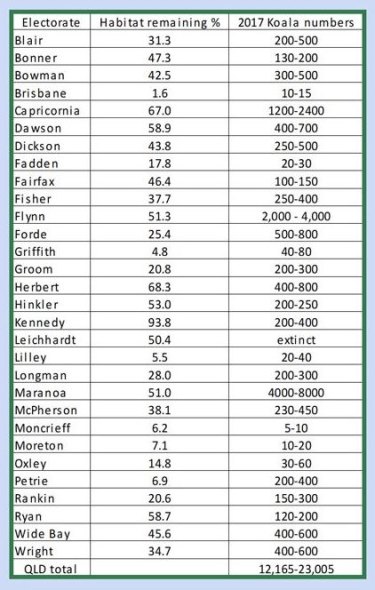 It estimates koalas are probably already extinct in the north Queensland electorate of Leichhardt.
In Steve Ciobo's Gold Coast electorate of Moncrieff there might be five to 10 koalas, though there are more in nearby electorates with koala habitat.
The AKF thinks there might be perhaps 40 koalas in Wayne Swan's suburbanised seat of Lilley in north Brisbane which includes Everton Park, Stafford, Chermside.
Most koalas here would be in the scrubland towards Nudgee and Boondall.
In Terri Butler's urbanised inner-city Brisbane seat of Griffith, there might be 80 koalas.
In Jane Prentice's Ryan electorate in western Brisbane, there might be 200 koalas because it includes little bit of koala habitat past Kenmore and Moggill.
Further away from the cities, koalas are in relatively healthy numbers in Queensland.
There may be 8000 koalas in David Littleproud's western Queensland electorate of Maranoa out past Mitchell.
In Flynn, an estimated 6000 koalas live inland of Bundaberg and Rockhampton.
WWF-Australia called for a moratorium on koala habitat land clearing and a complete review of Queensland's planning legislation is completed.
"A moratorium should be placed upon clearing of koala habitat until planning and development laws and regulations are amended to effectively conserve koala habitat and populations," his report says.
"Most importantly, the protection of essential (or critical) habitat under the Vegetation Management Act across all areas of Queensland needs to be strengthened."
"Especially the urban footprint by removing exemptions to vegetation clearing regulations, particularly under the Planning Regulation 2017.
The report asked for extra powers for the Department of Environment and Science to over-ride planning legislation.
"The State Department of Environment and Science should have concurrence power with respect to all development applications that may impact koala habitat."